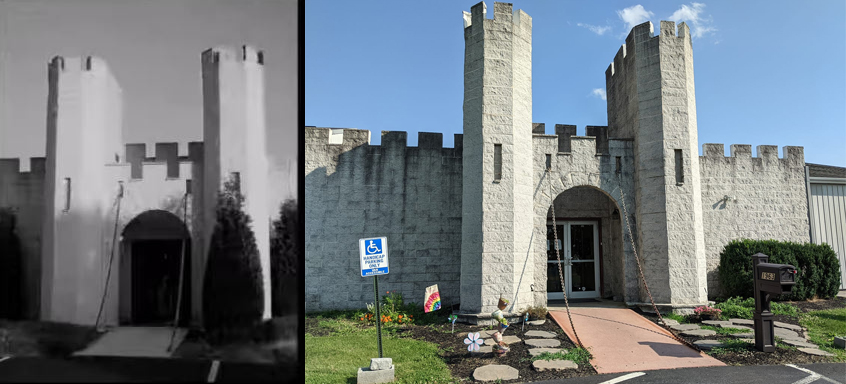 The Raven, a nightclub for teenagers opened in 1965. It was located on 441 in Lower Swatara (with a Middletown mailing address) at the intersection of Oberlin Rd and Longview Dr.
A who's who of R+B/Soul Groups/Motown acts played there, acts like Gladys Knight and the Pips, Smokey Robinson and the Miracles, the Temptations, Curtis Mayfield's Impressions, Patti LaBelle and the Bluebelles, James Brown's Orchestra, Little Anthony and the Imperials, Mary Wells, and the O'Jays.
The house band was the Magnificent Men (a combination of bands Del-Chords, and Magnificent Seven).
The club was the first business owned by brothers Joseph and Richard Phelan and Richard's wife, Linda Louise Phelan. Richard and Linda would open 19 restaurants together including Fast Eddies, Rod's Roadhouse, and Alfie McDuffs. Their most well-known restaurants were called the Gingerbread Man. At one time The Gingerbread Man had 19 locations throughout Pennsylvania and Maryland. Joseph Phelan designed more than 70 restaurants in the Capital region and the first he designed was The Gingerbeard Man.
Sometime after "The Raven" shut down, the building was a kitchen supply store and got the nickname "kitchen castle." And it was a communications company right before being bought by the daycare Discover Kids Childcare Center (which has several locations).
The Raven's façade probably looks very familiar. That is because even though it has had several owners since it was a nightclub, they have all kept the castle look.
Sources:
Campbell, Alexis Dow. "Legendary Magnificent Men Keep the Music Alive" Updated 6 Jan. 2019; Posted 26 Nov. 2009, https://www.pennlive.com/go/2009/11/legendary_magnificent_men_keep.html
Conversation with David Bupp, former lead vocalist for the Magnificent Men & the Del-Chords
Conversation with Mary Leisey
Conversation with Amy Schreffler co-owner of Discovery Kids Childcare Center
Larkin, Colin "The Magnificent Men Biography" The Encyclopedia of Popular Music https://www.oldies.com/artist-biography/The-Magnificent-Men.html
Obituary for Linda Louise Phelan. Carlisle Sentinel, 24 Mar. 2021, https://www.legacy.com/us/obituaries/cumberlink/name/linda-phelan-obituary?pid=198140409
Obituary for Joseph Phelan. Patriot-News, 9 Jan. 2011, https://obits.pennlive.com/us/obituaries/pennlive/name/joseph-phelan-obituary?pid=147672165
"The Raven Memories- Middletown, PA.1967" Soulwopp, 2 Jul. 2017, https://www.youtube.com/watch?v=vDiyZ9aIvkc
"The Raven Night Club…near Harrisburg-1966ish" City Data Forum. 2 Dec. 2007, https://www.city-data.com/forum/harrisburg-area/205494-raven-night-club-near-harrisburg-1966ish.html