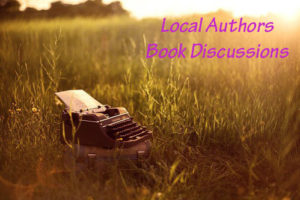 Local Authors Discussion Group
This discussion group is reading books by authors from right here in the Capital Region. It's a chance to read books by some local authors who will be visiting in library in the Fall.
Mon. June 26 from 6-7:30pm- Edge of Death by John Benedict MD
Mon. July 24 from 6-7:30pm- Under the Moon by Natalie J. Damschroder
Mon. Aug. 28 from 6-7:30pm- The Newbie by Leta Hawk
Members of the Book Club meet monthly (the 1st Thursday of every month at 6 pm) to discuss a variety of chosen books. New members are always welcome and registration is not required.
If you'd like to reserve a copy of one of the selections please ask a staff member at the front desk.
2017
Sep. – Pot luck dinner

Oct. – Midnight in the Garden of Good and Evil by John Behrendt
Nov. – Just Mercy by Bryan Stevenson
Dec. – Miracle on 34th Street by Valentine Davies and Redbird Christmas by Fannie Flagg
2018
Jan. – The Giver by Lois Lowery
Feb. – Wonderstruck by Brian Selznick
Mar. – Harriet the Spy by Louise Fitzbaugh
Apr. – How to be a Good Wife by Emma Chapman
May – Animal Farm by George Orwell
The photo is "The Book Club" by Louis du Mont and is licensed under CC BY-NC-ND 2.0
Mystery Book Club
Join this monthly book discussion group! Meets every 3rd Monday of the Month at 6pm. Members discuss books and participate in a variety of mystery-related activities. Registration is not required.
2017
Sep. – Private by James Patterson
Oct. – The Ghost and Mrs. McClure by Alice Kimberly
Nov. – If Fried Chicken Could Fly by Paige Shelton
Dec. – Plum Pudding Murder by Joanne Fluke
2018
Jan. – Tell Me No Lies by Lisa Hall
Feb. – Abducted by T.R. Reagan
Mar. – Trouble in Paradise by Robert Parker
Apr. – Paranoia by Joseph Finer
May – Death Cloud by Andy Lane
The photo is "The Book Club" by Louis du Mont and is licensed under CC BY-NC-ND 2.0
Science Fiction Book Club
Science Fiction Book Club is an online book club on Facebook.
Each month the members vote on which science fiction novel to read and discuss.
A weekly discussion question is posted every Friday.
Members also post about other science fiction novels and science fiction topics.
Group members live all around the world. Here is a Member Map.
The photo is "The Book Club" by Louis du Mont and is licensed under CC BY-NC-ND 2.0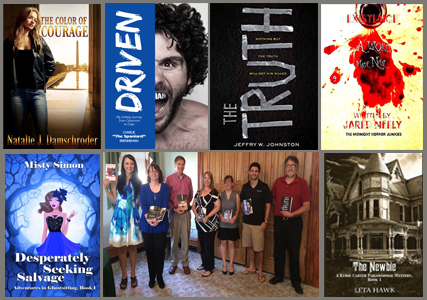 PA Author Q+A
On Sat. Sept 30 at 1 pm several local authors will speak about a variety of topics.
There will be a question and answer period with each of the authors.
The authors will be selling and signing their books.
The authors are:
Jeffry W. Johnston, author of YA novels "The Truth and "Fragments"
Natalie Damschroder, author of romantic adventures "The Color of Courage," and "Aftershocks."
Leta Hawk, author of YA novels "School Spirit" and 'The Newbie"
Charlie "The Spaniard" Brenneman, author of autobiography "Driven: My Unlikely Journey from Classroom to Cage"
Misty Simon, author of mysteries "Desperately Seeking Salvage" and "Poison Ivy," and romance "What's Life Without Sprinkles?"
Jared Neely, author of horror novels "Adeline" and "Roper's Field"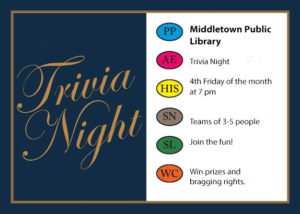 Trivia Night
Join us the 4th Friday of the month for Trivia Night.
Teams of 3 to 5 people. The winning team will win a prize
Light refreshments will be provided.
Upcoming topics include Music, Disney, and Star Trek.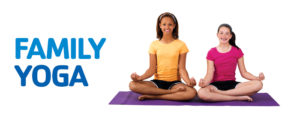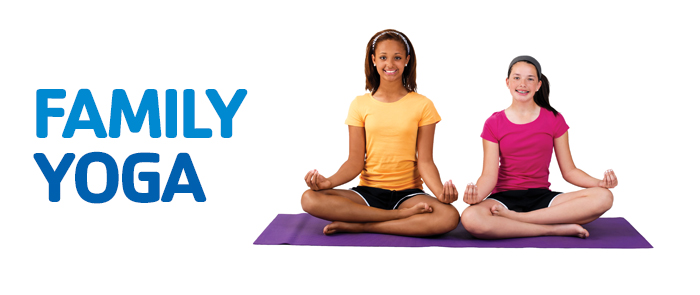 Family Yoga
Tuesdays at Noon. Join us for an interactive fabulous way to get fit for the whole family.
Yoga, stretching, and coordination.
All ages welcome; 30-45 minutes