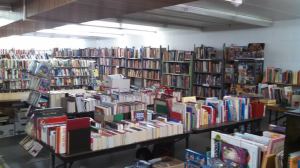 Spring Book Sale
Over 25,000 items, New Hardcover/paperback Fiction; Classics; Children's books; YA books; Non-fiction books of every subject; New and Old books; Christmas books; Large Print books; DVDs; CDs; Audio Books; jigsaw puzzles/board games. Hardcovers $2, Paperbacks $1. Publication dates 1800's to present. Easy shopping-most collections sorted by author. There is something for everyone!
Thursday, May 2: 4pm-8pm (Preview Sale- $5 fee)
Saturday, May 4: 9am-4pm
Monday, May 6: 9:30am-8pm
Tuesday, May 7: 9:30am-8pm
Wednesday, May 8: 9:30am-4pm
Thursday, May 9: 9:30am-8pm
Saturday, May 11: 9am-4pm ($5 Bag and Bake Sale)
Monday, May 13: 4pm-8pm ($4 Bag)
Tuesday, May 14: 4pm-8pm ($4 Bag)
Thursday, May 16: 4pm-8pm ($4 Bag)
Saturday, May 18: 9am-4pm ($3 Bag)
The Friends of Middletown Public Library hold a book sale in the library basement twice each year (typically in spring and fall). They welcome donations of new and used books and DVD's in good condition. They do not accept encyclopedias, textbooks, Reader's Digest condensed books (and similar), or books in poor condition. Please drop your donations off inside the library during our regular business hours. If you need a donation receipt or have a large quantity to donate please see us at the front desk.