Wagging Tails Wednesdays- Alan Irvine
August 11, 2021 @ 11:00 am

-

12:00 pm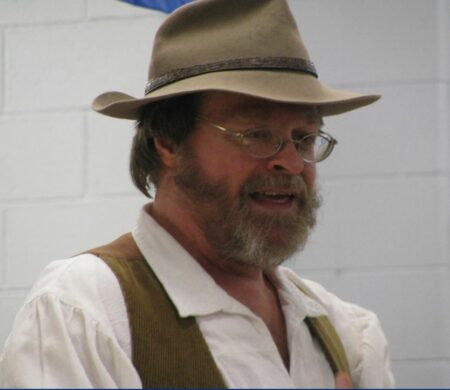 NOTE: There is a bonus show at 1:30 pm in the Library, Alan will also be doing his Spectral Tails show which features spooky animal tales for teens and adults.
Many years ago, Alan Irvine worked as a camp counselor in the Louisiana  pine woods. One night, after lights out, he needed to do something to pass   the time until the kids in the cabin fell asleep. Thinking back, he remembered a ghost story he heard years ago. When he told the story,   something clicked; the kids in the cabin liked it and clamored for more. From that point on, Alan continued to tell stories in the cabin after lights out,  around bonfires, while out on camping trips.
For years, Alan's ghost stories and humorous tales kept everyone huddled   close to the campfire. In time, his repertoire of stories grew to  include folk tales and legends, Irish and Celtic tales, Pennsylvania history,  tales of King Arthur and other heroes, Shakespeare and more.
 Alan tells his tales at many diverse venues including libraries,  schools, colleges, and festivals. He was a Commonwealth Speaker for the Pennsylvania Humanities Council for many years. He has appeared at Renaissance Festivals, Irish Festivals, science fiction conferences.
Fun kid-friendly performances each week.
There are door prizes to win each week too!
Part of our weekly Wagging Tails Wednesday Summer Reading Program.