Local Author Event
September 30, 2017 @ 1:00 pm

-

4:00 pm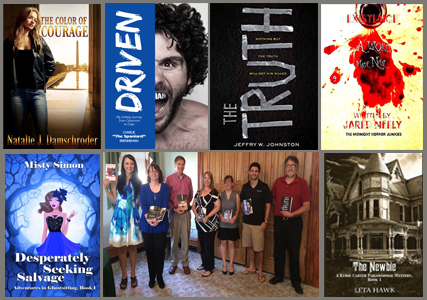 Several local authors will speak about a variety of topics.
Due to the number of authors, the event has moved to the social hall of St. Peter's Church (121 N. Spring St).

There will be a question and answer period with each of the authors.
The authors will be selling and signing their books.
The authors are:
Jeffry W. Johnston, author of YA novels "The Truth and "Fragments"
Natalie Damschroder, author of romantic adventures "The Color of Courage," and "Aftershocks."
Leta Hawk, author of YA novels "School Spirit" and 'The Newbie"
Charlie "The Spaniard" Brenneman, author of autobiography "Driven: My Unlikely Journey from Classroom to Cage"- Charlie Brenneman will not be able to make it this year.
Misty Simon, author of mysteries "Desperately Seeking Salvage" and "Poison Ivy," and romance "What's Life Without Sprinkles?"
Jared Neely, author of horror novels "Adeline" and "Roper's Field"
Jodi Moore, author of children's books "When a Dragon Moves In" and "Good News Nelson"
Brian McClure, author of the action/adventure novel "Trigger."
Margaret Houser, author of autobiographical "He is Her Friend,"about her and her family.
E. Sickler, author of YA fantasy novel "House of Red"