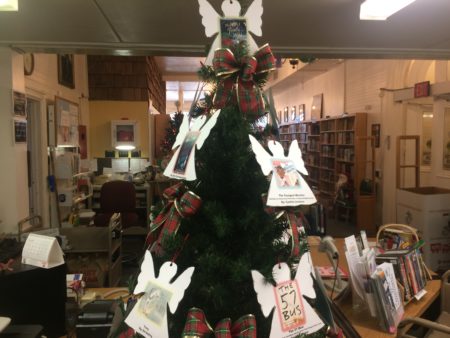 Every Christmas the library asks its patrons to donate various children's books to our collection as they are able. Here is a list of the books. Please email Info@middletownpubliclib.org if you are planning to purchase any, so that we do not end up with duplicates.
Also let us know if you want us to put a dedication book plate in your donations.
Or if you are visiting the library in person, you can take an ornament off our giving tree and let the front desk know which ones you are taking.
Thank you for your generosity this holiday season.
Children's Wish List December 2020
Another Christian Robertson
The Panda Problem Deborah Underwood
Saturday Oge Mora
Truman Jean Reidy
Charlie Hernandez and the League of Shadows Ryan Cajelo
A Place to Land: Martin Luther King Jr. and the Speech That Inspired a Nation Barry Wittenstein NF
Rocket to the Moon (Big Ideas that Changed the World)  Don Brown  NF
Drawn Together  Minh Le
Meg, Jo, Beth and Amy: A Graphic Novel Rey Terciero
Strange Boarders Brandon Terrell
Fry Bread: A Native American Family Story Kevin Noble Maillard NF
Hey, Water! Antoinette Portis NF
Stop! Bot! James Yang
Counting the Stars, The Story of Katherine Johnson, NASA Mathematician
Lesa Cline-Ransome NF
The Wonders of Nature Ben Hoare NF
Tom's Midnight Garden by Edith (Graphic Novel)